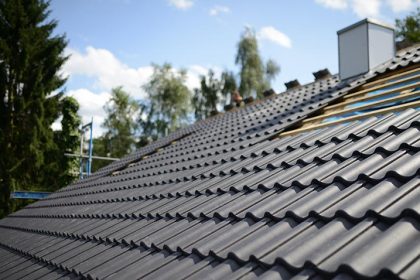 More than just an important part of every property, the roof is a style statement and a reflection of a certain period in history. Roofs in Brisbane and Queensland certainly have a characteristic of their own. Born out of European tradition and evolving to match local conditions, Queensland roofs have adapted to deal with heat and rainwater – and they do it in style.
From the earliest bark covered roofs to the characteristic corrugated style, roofing in Brisbane has certainly come a long way. Here's a brief look at the history of roofs in Brisbane and Queensland.
Pre-European Settlement
There's a common misconception that Indigenous Australians never built permanent shelters on their land, but this is far from true. Our First Nations People often stayed in one place for up to a year, especially in rainforest areas in Queensland, where the rain was heavy and almost constant. In some parts of Australia, archaeologists have even found stone houses dating back 9,000 years.
Aboriginal shelters and huts were often dome structures with a dome roof to match. These roofs often featured earth and sod cladding, and in some parts of the country, featured three layers of insulation.
Early European Settlement
Some of the earliest roofs constructed after European settlement were covered with bark. This was later replaced with various forms of shingles from trees like the Ironbark and the Forest Oak.
By necessity, these roofs often featured a steeply pitched design, which gave them a unique character. While the tradition of pitched roofs continues even today, very few traditional shingled roofs remain intact.
Around the 1870s—1880s, many Brisbane roofs featured separate verandahs and a range of decorative elements.
The Rise of Corrugated Galvanised Steel Roofs
Metal roofing is one of the most common features of Queensland homes today, and it has a strong history in the Brisbane region. Corrugated iron roofing was used to cover earlier shingled designs, and was one of the earliest uses of metal roofing in Queensland and Australia.
Corrugated iron and steel have been used since the 1850s, but this was mainly driven by the use of imported metals. However, by the 1920s, production of metal roofing had begun in earnest in Australia.
Metal roofing has always been lightweight and easy to transport. It is also great for collecting water and reflecting heat, making it a favourite for Queensland homes.
Today, the tradition of metal roofing lives on through innovative steel roof products such as Colorbond, Zincalume, and BHP.
Asbestos Roofing in Brisbane
Asbestos cement was once considered an extremely useful material for roofing and other construction purposes. It is naturally fire resistant, great for insulation and safe for use around electrical components. It was most widely used in Brisbane and around Australia between 1945 and 1970, although local production started as early as the 1920s.
Today, the hazardous nature of asbestos-containing materials is widely known. They have not been used in domestic buildings since the 1980s and were formally banned in the early 2000s.
In many cases, asbestos removal and re-roofing is the best course of action for properties that still contain asbestos. If you're concerned about asbestos in your roof in Brisbane, the Gold Coast or NSW, talk to Manchester Roofing Australia for advice.
Continuing a Proud Tradition of Roofing in Brisbane
At Manchester Roofing, we are proud of Australia's rich roofing history. We can help you to thoughtfully maintain your heritage roof or simply provide all the roofing services you need.
For assistance in Brisbane, the Gold Coast, and New South Wales, call us today on 07 3490 8480 or leave us a message online.