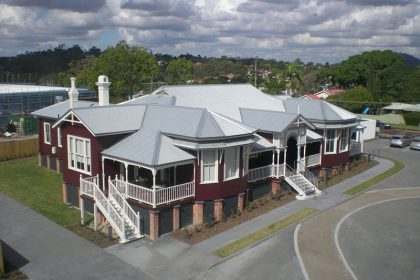 On a heritage building, the roof not only shelters you from the weather but is often an important part of its historic significance, too. While regular roof maintenance will extend the life of your roof a great deal, you will eventually need to replace the roof completely.
If you're looking for professional re-roofing services on your heritage building, it's important to first seek help from an experienced roofing specialist – trusted roofers who have the experience, necessary skills and expertise to safely conduct repairs on older and heritage listed buildings.
Heritage Roofing Specialists in Brisbane
At Manchester Roofing, we always take the utmost care and attention when assessing, planning and implementing a new or replacement roof on any heritage building. We know that buildings age over time and so do their structures and foundations, so we undertake a careful pre-assessment before recommending the correct course of action.
With more than 30 years in the roofing industry, you can rest assured that your heritage roof is safe in our capable hands. We are experienced in providing heritage roof replacements throughout Brisbane, Queensland. We are:
A member of the Master Builders Association
Fully licensed by the QBCC 1240381 – NSW Government License No 252879C / 202234C
Comprehensively insured for our clients' protection 
Heritage Roof Replacement Services 
Working with you to understand the project's expectations and limitations, Manchester Roofing can handle a fragile building structure with delicacy and precision. When replacing your heritage roof with a new roof, we offer a range of metal roof replacement options, including Colorbond Steel. Our metal roofs provide water-tight protection, ensure a longer life expectancy and blend well with the historic aesthetics of your heritage structure.
Read more about our roof replacement services.
When to Replace a Metal Heritage Roof 
Metal roofs are known for being durable and corrosion resistant; however, the damage that they sustain is often irreparable. For instance, erosion, corrosion and environmental damage should not simply be patched up; if your historic building's metal roof has suffered this type of damage, it is time to replace it. To be sure, you can have a roofing specialist come and assess your heritage roof. They can tell you what needs to be done and offer a comprehensive quote.
Make Sure That Your Heritage Roof Receives the Proper Care
If your historic building's roof needs to be replaced, do not wait. Significant roof damage affects the entire building and can accumulate to cause major, structural issues. For more information on when to replace a roof on a heritage building, contact us today at Manchester Roofing on 07 3490 8480 or fill out our online contact form.