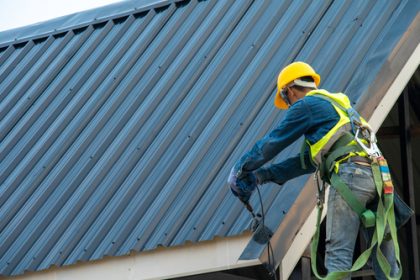 Heard the term roof sarking but don't know what it means, or if you need it on your new metal roof? In this article, we'll tell you all you need to know.

Roof Sarking: A Definition 

Roof sarking is a foil membrane applied underneath the roofing material to protect it from the weather, including excessive heat, wind, storms and rain. Ideally, it is best installed at the same time as your roofing material, so the process runs as smoothly as possible.

Even though metal roofing is known to be highly resistant to fire, the installation of roof sarking provides you with even more protection.

It is worth noting that even though roof sarking is classified as a type of insulation, it doesn't necessarily mean it's the only type of insulation you'll need to install in your new roof.

Is Roof Sarking Mandatory in Roof Installations?

Roof sarking is considered to be good practice in all new home builds in Australia, though it is not always necessary.

Whether you are required to have roof sarking installed in your roof will depend on a number of factors, including your location and terrain category as well as the length of your roof. As  such,  we recommend checking with your relevant building authority or roofing professional before proceeding with your build.

Why Install Roof Sarking? 

In addition to increased fire resistance, there are a number of reasons you should consider roof sarking for your home. In this section, we'll go through some of the most popular benefits.

Energy Efficiency

Because of the thermal insulation properties of roof metal roofing, it tends to deflect heat, keeping your home cool in summer and warm in winter. Roof sarking improves upon this by creating what is known as R-value air gap. 
This means it is quite energy efficient and environmentally friendly, which is something that many homeowners will benefit from.

Prevents Water Damage,  Increases Moisture Control & Fire Protection

Roof sarking acts as an additional barrier between your roof's infrastructure and external elements. Therefore, it has the potential to prevent water damage and increase moisture control. 
Protection During Construction & Improves Structural Integrity

Because roof sarking provides an extra layer of protection and keeps out dust, moisture and wind, it really comes into its own when you're doing renovations.

In this way, it also helps solidify the structural integrity of your home and its roof as it is not exposed to damage in the same way it would be if you were to opt for a roof without sarking.

Can Roof Sarking Be Repaired? 
In most cases, roof sarking can be repaired. However, it depends on the type of damage you have, and how bad it is. And, just as with other roofing repair work, it is not something we would recommend you attempt to do yourself.

When to Contact Manchester Roofing 

The team at Manchester Roofing are some of the best roofing professionals in the industry. Over the decades we've been in business, we've seen all there is when it comes to roofing and worked hard to become a leading provider of both commercial and residential roofing.
Arrange a professional roofing inspection, repair or installation by contacting the experts at Manchester Roofing today.