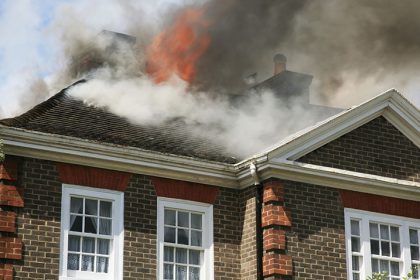 Fire hazards are an ever-present concern for properties in Queensland and Australia, with a range of factors contributing to the overall safety of our buildings. The roof space can be particularly prone to fire, especially when poor workmanship is at play. This makes roof inspections and remedial work essential to fire safety in your roof.
From poor wiring, to loose asbestos, there are many factors that can put your roof and building at risk. In this article, our Brisbane roofing specialists will explain what you need to know about fire and your roof.
Halogen Downlights and Roofing Insulation
Over the past few years, halogen downlights have caused a significant number of fires in roof spaces. The cause of these fires varies, but they can mainly be boiled down to one thing – clearance space.
Recessed halogen downlights should have a minimum of 200mm between themselves and any other structures and substances, including roofing insulation. When these regulations aren't respected – either by insulation installers or electricians – your property will be at risk of a fire.
Insulation installed around halogen downlights will heat up and singe. While fire retardant insulation will not burn, debris that comes into contact with heated roofing insulation can cause a fire.
Placing other substances around the downlights, such as cardboard, can also lead to a fire. This should be substituted with a fire-rated guard. Alternatively, cooler lights such as LEDs should be considered for your roof.
Exposed or incorrect wiring work can also lead to fires. Ensure your downlight wiring is always completed by a professional and checked regularly
Other Clearance Considerations for Your Roof and Ceiling
Recessed downlights aren't the only items with clearance considerations for fire safety. Here are some of the other items that can contribute to a fire if not correctly installed:
Transformers and electrical devices – 200mm default minimum clearance from insulation and structural members
Mains voltage and other recessed luminaries – 200mm clearance above the mains and 200mm of side clearance
Exhaust fans, flues and chimneys – should have 25mm of clearance and should be installed with fire-resistant insulation
Gas water heaters and space heaters – should have 300mm of clearance
Exposed Asbestos and Fire Risks
Asbestos removal and re-roofing can be extremely valuable projects, but if they're not completed correctly, they can lead to disaster. Asbestos-containing materials were used for their fire-resistant properties before they were found to be hazardous, so they're not likely to cause a fire themselves. However, if a roof fire does start and loose asbestos has been left in your roof, it may become brittle, sending dangerous asbestos fibres into the air.
Asbestos is most dangerous when it is disturbed, loose, brittle and breathable. One single piece of asbestos left carelessly in your roof after removal can make a roof fire even more dangerous.
It's essential to rely on a qualified roofing specialist who is licenced to remove asbestos, dispose of the material and replace your roof. By choosing a reliable roofer, you can remove one more fire-related hazards from your home.
Want a Roof Inspection in Brisbane? Contact Us Today!
Working across Brisbane, Gold Coast and New South Wales, Manchester Roofing Australia can ensure your roof and ceiling are as safe as possible. We are experts in asbestos removal, roof insulation installation and much more.
To organise an inspection or enquire about our services, contact our team today.