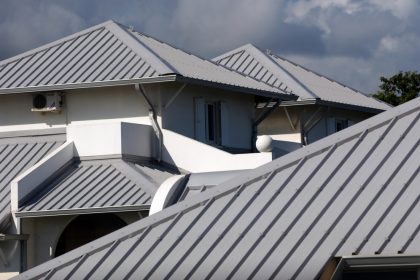 Guttering problems are a hassle at the best of times, but when the gutters are blocked on your large commercial property, you can expect very expensive problems. Clogged, cracked and poorly installed gutters and pipes can lead to build-ups, moisture problems and health hazards that can really damage your commercial building.
Do you have a big metal roof with big guttering problems? Here's what you should do next.
Blocked Gutters
Gutters and downpipes can get blocked due to excessive rainfall or a build-up of debris over time. When leaves, dirt and other matter gradually or suddenly gather in your gutters, excess water will find other ways to escape. It may seep through roof tiles, overflow from your gutters or form a pool on your roof. The consequences of this can be anything from a small leak to a ceiling collapse. In a large commercial building, your products, employees, and customers could all be at risk, as well as your compliance with building codes and OH&S policies.
In drier areas, a build-up of leaves and other organic matter can become a fire hazard for your property.
How to Solve the Problem
It's important to examine and clean out your gutters on a regular basis and after heavy storms. However, on larger commercial roofs, this may be easier said than done.
To protect your gutters, you may also want to invest in new metal guttering. Half Round and Flat Back gutters are designed with a unique curved base. This prevents the build-up of water and dirt, allowing your gutters to clean themselves out naturally every time it rains.
Fixing Broken Gutters and Downpipes
Just like blocked guttering, cracked gutters and downpipes can lead to leaks, water damage, mould growth, pest infestations and much more. This isn't just a bad look for your business – it can also lead to serious health problems and building vulnerabilities.
Unlike blocked gutters, broken pipes won't go away with a quick clean. They will need to be replaced! Our roofing specialists recommend metal guttering and downpipes for your large commercial property.
We provide gutters and downpipes to suit a range of commercial and industrial buildings, including those with tile and steel roofs. Our downpipes are available in square, rectangular and round designs with Zincalume, Colorbond, copper, stainless steel or PVC materials.
Consider LeafGuard to Protect Your Commercial Property
Maintaining a guttering system is never easy work, especially when you're already looking after a large commercial building. To maximise the life and performance of your gutters, consider LeafGuard from Manchester Roofing Australia.
LeafGuard can be attached to your guttering system to reduce blockages, rust, and overflow, as well as preventing vermin from entering your property. In the long-term, this protects your commercial property from roof and ceiling flooding and reduces the risk of fire due to the build-up of leaf matter.
The One-Stop Solution for Your Commercial Guttering
At Manchester Roofing Australia, we're here to protect your roof and gutters in Brisbane, Gold Coast, and New South Wales. Whether you need new gutters, new downpipes or a roof inspection, we can help you.
To enquire about our commercial services, call 07 3490 8480 or visit us online.