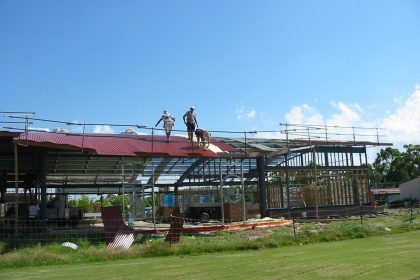 If there's one thing that commercial architects and builders can agree on, it's that metal roofing is best for big projects. Metal roofing is now the default choice for professional builders, developers, and architects for large-scale commercial spaces. With affordable costs, low maintenance and a range of other benefits, there's no reason why it wouldn't be beloved by the professionals.
Let's have a closer look at metal roofing and find out why it's the choice of the pros.
Almost Endless Design Possibilities
Builders, architects, and developers love the design flexibility that comes with metal roofing, and you will too. Unlike some roofing supplies, steel roofs aren't constrained by pitched designs. On the contrary, metal roofing can be used on a range of roof shapes, providing greater design freedom. Much of this is thanks to metal roofing's lightweight design. With less weight to hold up and fewer supports required, designers and architects can easily match your roof design to your needs.
Steel roofing is also available in a range of different colours to suit your commercial property. For example, the Colorbond steel range comes in a wide variety of colours, from contemporary to classic. Whether you your roof to blend with your surroundings, stand out from the crowd or reflect your brand, metal roofing is the answer.
Architects Love the Lighter Materials
Meta roofing's lightweight design comes with a range of advantages for builders and architects. As we've mentioned, the lightweight material opens up extra design opportunities, but there are many other reasons why builders and architects love a lightweight:
Metal roofing costs less to transport and is easier to install
Metal roof sheets won't weigh down your structure and they're non-absorbent, meaning they maintain their lightweight in the rain
Metal roof projects are often faster to design and build, resulting in lower costs for the architects and for you!
Builders and Architects Can Rely on Metal to Last
For builders and architects, the ultimate joy comes from creating something that lasts. Tile or slate roofs might look good at first, but cracking, fading and other damage will often set in after just a few years. With a high-quality steel roof from Colorbond, Zincalume or other trusted manufacturers, you won't have this problem.
Builders, architects, and their customers can rest assured that quality metal roofing will:
Be produced to look newer for longer
Resist peeling, chipping and cracking,
Stand up to inclement weather, termites, and fire
Remain thermally efficient over its lifetime
Bottom Line – the Pros Choose Metal and You Should Too
With the examples above, we're just scratching the surface of why metal roofing is so beloved by builders, architects, and developers. Metal roofing is also extremely environmentally friendly, energy efficient, and perfect for reducing mould and mildew.
If you're considering a roof replacement for your business in Brisbane, Gold Coast or New South Wales, choose the roofing supplies that the pros rely on. Ask Manchester Roofing Australia for a full range of metal roofing solutions. Call today on 07 3490 8480 or leave us a message online.