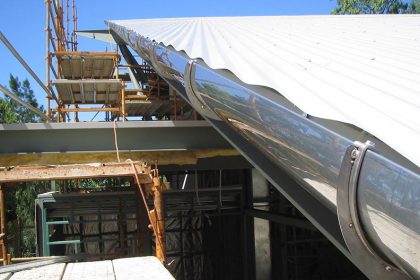 Is your roof is looking old and worn down,  maybe you're suffering from leaking drains, or perhaps you're looking to build a new house and need quality roofing services? With so many roofing options out there it can be difficult to figure out which one is right for your individual needs. The roofing specialists at Manchester Roofing in Brisbane are here to give you a helping hand. Here's our ultimate guide to roof services – to help you find the right option for you.
Roof Replacement and Installation in Brisbane
First things first, do you need a roof replacement? Your roof is one of the most vulnerable parts of your home, as it is the first line of defence against the weather. This makes it important to have your roof checked by professional roofing specialistsregularly. Issues like surface bubbles, buckling, curling and damaged gutters are tell-tale signs your old roof may need the attention of an expert roofing company.
Metal Roofing is a Popular Roof Replacement Solution
If you do need a new roof, metal roofing is a popular choice in Brisbane. This is because it is insulating, environmentally friendly and can reduce energy costs. Metal roofing can also increase your home's value – it's recognised as an upgrade and potential buyers find its maintenance-free appeal very attractive. Read more features and benefits of metal roofing.
At Manchester Roofing in Brisbane, we supply a range of metal roofs with many different colours to choose from. Our high tensile steel options include BHP, Zincalume and Colorbond Steel roofing. They provide long-lasting advantages of strength, adaptability and good looks to suit a multitude of applications.
Roofing Supplies Safeguard Your Home
When it comes to the roofing materials in your home, you need to rely on them to protect your family and your personal belongings. Roofing supplies and solutions like guttering and downpipes may need to be replaced as stand-alone upgrades to get your roof back to its best working order. If you're unsure about which sections and materials need repair or replacing, speak to a roofing specialist. They can come and assess your roof.
Most roofing specialists will offer the following roofing supplies: 
Guttering: Having clear, functioning gutters is important. If you notice your gutters aren't working as efficiently as they should or they are detaching from your home, they need fast repair or replacement.
Downpipes: These are an important part of your roof water drainage system. If your downpipes are leaking or damaged, it's important to have them repaired or replaced to avoid damage to your home.
Leaf guard: This ensures the maximum life and performance of your guttering system by reducing blockages, rust, overflows and vermin entry.
Roof Insulation: Quality roof insulation stabilises the temperature in your home, whereas poor quality insulation can let the energy escape, leading to high energy bills when you're trying to heat or cool your home.
Fascia: Fascia is fixed directly to the lower ends of the roof trusses, supporting the lower edge of the bottom row of tiles. Damaged fascia can be dangerous if left. Unlike timber, steel fascia does not warp, knot or crack and is a recommend fascia replacement solution.
If your roof needs work in Brisbane, get in touch with Manchester Roofing on 07 3490 8480.