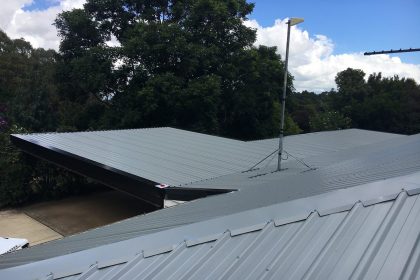 Metal roofing is widely recognised as one of the best materials for homes and businesses in the 21st century. Metals are durable, long-lasting, low-maintenance, and they come with almost unlimited design possibilities.
But which metal roofing is the very best for your roof? In this article, we examine some of the most popular options to help you find the best metal roof for your commercial property.
Copper Roofing
When it comes to metal roofing, copper has been around for a long time, and there's a good reason for that. Some of the advantages of copper roofing include:
100% recyclable and great for the environment
Extremely long lasting in practically all climates
One of the quietest types of metal roofing
Copper also has some drawbacks which you may want to consider. These include:
Softer material that is more prone to denting
Expanding and contracting as the temperature changes
Expensive to use for large applications
Aluminium Roofing
If you live by the beach, then aluminium roofing might be right for you. It can stand up to the salty air better than many other roofing supplies, including other types of metal. Its advantages include:
Resistance to salt corrosion
Lightweight design that doesn't affect the building structure
Long lasting and easy to install
Unfortunately, aluminium also has its downsides in both commercial and residential settings:
It is not very aesthetically pleasing and will often need painting
Panels are often too thin to use in a range of situations and climates
A comparably expensive metal roofing option
Steel Roofing
Steel roofing is undoubtedly the crowning jewel of modern metal roofing manufacturing. When it comes to new roof installations or roof replacements, there are many reasons why you should choose steel:
It's one of the most affordable metal roofing options
Strong and adaptable to a range of roof styles and applications
Steel is the most recycled material on the planet, making it very eco-friendly
Of course, even steel roofing has its disadvantages, although these are largely offset by other features:
While it is recyclable, creating steel can also be an energy-intensive process
Steel roofing can be noisier than other roofing options, but this can be counteracted with effective roofing insulation
The initial cost of steel roofing can be higher than asphalt, tiles and other options but it will usually pay you back in the long-term with little to no maintenance expenses
Why Choose Colorbond Steel Roofing?
At Manchester Roofing Australia, we recommend Colorbond steel roofs to our commercial, industrial and residential customers. As well as the standard benefits, a Colorbond steel roof can guarantee:
Resistance to peeling, chipping, cracking and more
A high-tech production process that keeps your roof looking new
Excellent thermal efficiency for warmth in winter and a cool home in summer
Collarbone's famous choice of colours to perfectly suit your property
Contact Manchester Roofing for a New Metal Roof
If you're looking for the best metal roof for your property in Brisbane, Gold Coast or New South Wales, look no further than Manchester Roofing. We use BHP, Zincalume and Colorbond roofing profiles to ensure the best results, every time.
For more information, explore our roofing services, or contact us today.