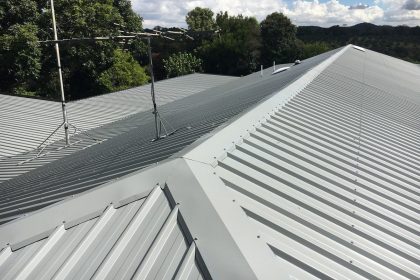 When you own a commercial building, it's important to consider the roof over your head, especially the types of materials that roofing is made from. In this article, we focus on two of the main questions we're asked when discussing commercial roofing: what is commercial roofing? and what is the best commercial roofing material?
What is commercial roofing?
Before answering the question, "what is the best commercial roofing material?", there's another, potentially more important question roofers or those considering a new roof – particularly in a commercial setting – should ask themselves. That is: what is commercial roofing?
Commercial roofing refers to the roof that is installed on top of a building, just as with a residential property. However, there is a major difference between commercial roofing and residential roofing when it comes to the material used, its durability and what makes certain materials fit to be used in commercial roofing jobs.
What is the best commercial roofing material?
Like residential roofing, commercial roofing materials come in a variety of options. However, there is more variance in commercial roofing materials than that of residential roofing. Some options include:
Metal
Just as with residential roofing, metal is considered a popular choice for commercial roofing, mainly due to the different types of metal you can choose to have your commercial roofing made from (zinc, aluminium, stainless steel, corrugated etc).
It's attractive, durable and will withstand Queensland summers better than most other options on the market. The best thing about metal roofing is that it's tried and true and adaptable to almost any commercial building.
Built Up Roofing (BUR) Membrane
BUR membrane is made of gravel and tar, resistant to most weather conditions, is cost effective and durable.
Asphalt Shingles
Asphalt shingles are a popular choice both in residential and commercial roofing. This is because they are easy to lay and can be adapted to a variety of commercial buildings.
Modified Bitumen Roofing
Modified bitumen roofing is a great option if you expect your roof will be frequently used. This is because it is made of a composite of reinforced roof fabrics and bitumen, which means it's durable and easy to walk on.
EPDM Roofing or Green Roofing
EPDM (or thermoset) roofing is made from rubber ply and is great if you are wanting versatility and low maintenance. It's also resistant to ultraviolet rays and may even help reduce heating and cooling costs.
Green roofing is an even better option for the environmentally conscious and comes equipped with energy efficiency and drainage solutions.
Our Preference
There's no doubt all the above roofing materials are legitimate choices for your commercial roofing project. But, when answering the question "what is the best commercial roofing material?", we say metal roofing is the way to go. Metal roofing has been used in commercial buildings for a number of years, and there's a good reason why.
It's versatile, long lasting and will stand up to an array of weather conditions – an advantage when you live and work in Queensland's tropical climate.
At Manchester Roofing, we only work with metal roofing for commercial properties simply because, in our opinion, it is the best material for commercial roofing.
In addition to all the aforementioned advantages, metal roofing is also relatively easy to maintain, so you won't have to worry about replacing or repairing the roof as much as you would with other roofing materials.
At Manchester Roofing, we specialise in only the best roofing materials. Call us today to discuss our commercial roofing solutions for your property.