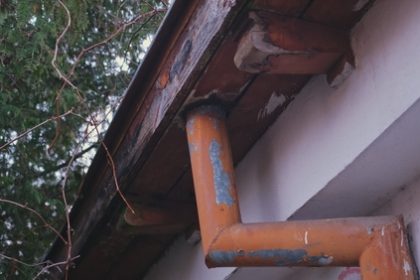 Experiencing issues with your roofing but don't know what's causing it? The answer may lie in your guttering.

This article will focus on determining the projected lifespan of gutters, signs they need replacing, the importance of cleaning gutters before the approaching storm season and when to contact us for professional assistance.

How Long Do Gutters Last? 

While metal roofing and gutters do last much longer than other materials, they don't last forever. Generally, well-maintained gutters can last up to 20 years (if not longer).

How to Tell if Your Gutters Need Replacing 

Of course, there are a number of signs that indicate it might be time to replace your guttering. In this section, we'll discuss this in more detail.

Cracks or Splits

When you start to see splits and cracks in your gutters, it might be a sign you need to replace them.

But how do you know if you've got cracks and splits without getting on the roof yourself? You can usually tell if your guttering has splits if there is excess water in your foundations or if you think the water is dripping more often than usual.

Rust, Mould or Corrosion

Given time, all metal will rust or corrode (especially if it's not taken care of). But if you see signs of rust, mould and corrosion in your guttering, it might be time to arrange a roofing inspection and get them replaced.

Gaps 

Gapping in your gutters can sometimes happen and can often be repaired. However, if the problem is ongoing or particularly bad, your professional roofing team may suggest a replacement.

Leaning 

Leaning occurs as your gutters get older and start to lose their durability. If this happens, it's usually a sign your gutters need refastening or replacing. Failing to address this issue can pose serious risks to your safety in addition to water damage.

Warped Seams

Are the seams of your guttering looking a little out of shape? Warped seams (where two troughs or pipes meet) can cause leaks and other structural issues. While this can sometimes be fixed with resealing, the best course of action is often replacement.

Missing Fasteners 

Metal roofing and gutters need a certain amount of fasteners in order to be compliant and productive. If these fasteners go missing, it might suggest a weakness in your guttering.

Overflow of Water

Is water overflowing from your gutters? This is a sure sign you're in the market for a replacement.

Peeling Exterior Paint 

Peeling exterior paint can be a result of water damage, which is in turn caused by issues with your guttering system. If the problem can't be fixed with a repair, you may need to organise a professional replacement.

The Importance of Cleaning Your Gutters 

While a good guttering system can withstand different types of weather fronts and heavy rainfall, they aren't self-cleaning. And we all know the problems that can be caused by blocked guttering.

Storm season is drawing near so now's the time to get organised around your property. Most importantly, this is your reminder to arrange for your existing gutters to be cleaned, repaired or replaced.

When to Contact Us for Professional Assistance 

If we've said it once, we've said it a thousand times. Under no circumstances would we recommend anyone do their own roofing maintenance or gutter replacement themselves. This is especially the case if you are afraid of heights or inexperienced. It's just too dangerous.

When you're in need of guttering maintenance, replacement or a roofing inspection completed by a qualified, knowledgeable roofing team, you should call Manchester Roofing.

Arrange your roofing and gutter inspection today by getting in touch with our experts.