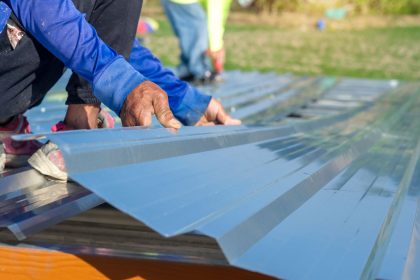 Think you may have fallen victim to poor roofing installation or want to avoid it? You've come to the right place.

The focus of this article will be all the common signs you may have fallen victim to poor roofing installation , and how to avoid it. We'll also discuss when to call our experts at Manchester Roofing.

Signs Your Roofing Installation Isn't Up to Par 

We'll discuss how to avoid poor roofing installation in the next section, but the truth of the matter is, sometimes it's difficult to tell you've chosen the wrong roofing contractor until your installation is complete. Here are a few of the signs this could be you:

Roof Leaks 

Roofing leaks are never a good thing, but this is especially the case on a metal roof that has just been installed. If you have this problem, contact your contractor (or a professional you know you can trust) to rectify the issue.

Storm Damage & Poor Drainage 

Metal roofing is well known for being resistant to storm damage. So if your roof is severely damaged after the first storm it endures, you might have hired a dodgy roofing installer.

The same is true of your drainage. With the right flashing and guttering system, excess water should drain away. If it doesn't, there could be a drainage issue you need to rectify asap.

Inconsistent Materials

Your materials should always be consistent across your roof, with the correct amount of bolts and screws secured in the right places. If this is not the case, you have a problem.

Irregular Temperature 

Metal roofing is great for thermal insulation and regulating temperature control both in and outside the property. If your home is warmer or cooler than it should be, it could indicate something has failed in installation.

How to Avoid Bad Roofing Installation 

If you're in the market for a metal roofing installation and don't want to experience any of the issues we've discussed above, there are a couple of things you can do.

Do Your Research

Researching your preferred contractor (and the manufacturer) is one of the most important things you can do before starting the installation process. Take your time by talking to friends and family members who have had metal roofing installed, and get their recommendation.

If you can't do that, look for a roofing contractor's credentials (including licensing)  to ensure they are qualified to complete the installation efficiently and successfully.

In our opinion, it's best to go with a company (like ours) that specialises in metal roofing installation, rather than dabbling in metal roofing installation alongside tile and other options on the market.

Where possible (and if you feel more comfortable), make sure that the work is being completed by the roofing professionals you talk to, rather than subcontractors who show up on the day unfamiliar with the job.

Talk to the Contractor
You need to be confident when placing your faith (and money) in a qualified roofing installer. If you want to be certain they're doing a good job, or are the right roofing contractor for you, talk to them.

Discuss how they're going to do the job, check they're using quality materials and that they're organised.

It may sound silly, but if your roofing contractor isn't organised with their tools and supplies, doesn't have a plan for how they're going to manage their work (or can't explain unnecessary delays), consider it a red flag. Opt out while you can.

When to Contact Manchester Roofing 

We believe there is no one better for metal roofing installation and repair than our team. So if you're in the market for a roofing installation solution – or need assistance to fix your bad roofing installation – contact us.

We're licensed, professional, and have the experience to always do right by our customers.

Get in touch or book your roofing inspection online today. At Manchester Roofing, we're always here to help.