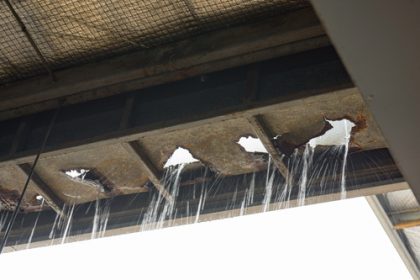 So your metal roof is leaking, but it's not really too much of an issue, right? Wrong.
Leaky roofs mightn't seem like a huge problem, but if left untreated, it can lead to major issues in your home or commercial premises. 
In this article, we'll discuss the problems that can be caused by leaky roofs, and when to contact the experts at Manchester Roofing for assistance. 
What Problems Can Arise from Leaky Metal Roofs?

When installed correctly and professionally by experts such as those we have on our team at Manchester Roofing, metal roofing is fairly durable and can withstand all kinds of weather conditions. It is, however, not infallible and, just like any other roofing material, may succumb to leaks.

In this section, we'll discuss some of the major issues that can be caused by an unchecked leaky metal roofing system.

Damaged Ceilings or Drywall 

When left untreated, leaky roofs can lead to damaged ceilings or drywall. This in turn can mean not only major structural damage, but a huge financial loss.

While the damage may present itself in the form of staining or cracks, it may also be invisible to the eye.

That's why you should always try to ensure leaks – no matter how minor – are attended to as soon as possible. If you think you may be at risk of this due to a leaky roof, it's best to contact your roofing professional and arrange an inspection.
Mould & Mildew 

Mould and mildew not only causes issues on a foundational or structural level, it is also incredibly bad for your health and that of your family and co-workers.

Pest Infestations 

The presence of pests after a leak may not seem like a huge issue if it's contained. But we all know that an uncontrolled pest infestation can quickly get out of hand. 
This makes for an unpleasant living environment and could even cause bigger problems if not dealt with quickly.

Ruined Insulation

Insulation is important for regulating the temperature of your home and ensuring the integrity of your build. 
If this is damaged by things such as leaky roofs, there is no barrier of protection, which could lead to more severe problems in the long run. 
Structural Issues 
Water damage is the enemy of buildings and while your home or commercial building is protected by metal roofing, if that metal roofing is damaged or leaking, you become exposed.

Rotting Wood 

Rotting wood is a haven for pests and structural damage, both of which we have discussed as problems that can be caused by leaky roofs.

If left untreated, you risk not only the safety of yourself and your family or staff, but also running into major financial problems. For this reason, you should arrange a roof inspection by our professionals before it becomes a big concern.

Fire Hazard 

Water and electricity just doesn't mix.  While a quality metal roof is excellent protection against fire hazards, a leaky metal roof is no protection at all.

Luckily, our qualified roofing specialists can often fix leaky metal roofs with little disruption which saves you a lot of time, money and stress.  
When to Contact Manchester Roofing 

As soon as you discover a leak in your metal roofing, the best course of action is to get in touch with your local roofing expert. At Manchester Roofing, we specialise in roofing repairs and fixing leaky roofs in an efficient manner.
To arrange a professional roofing inspection from our qualified team members, get in touch today.