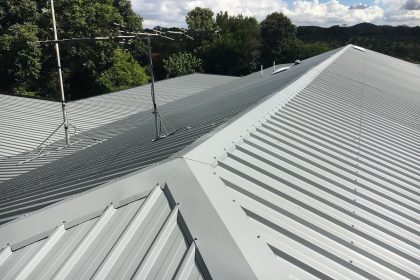 As metal roofing experts, we're often asked about the potential financial benefits of installing our products.
In this article, we'll discuss the various ways in which you can potentially save a ton of money by investing in quality metal roofing. We'll also touch upon how you can be sure you're getting the best metal roofing on the market and when to contact our team at Manchester Roofing.
How Can Metal Roofing Save You Money?
There are several ways in which metal roofing can be seen to potentially save you a lot of money. In this section, we'll take you through some of the most common.
Durability & Longevity
Metal roofing is one of the most durable products on the market, resistant to all types of inclimate weather from extreme heat to the worst of Queensland storms. And it's because of this durability – and how it won't require the constant repairs associated with extreme weather conditions – that it has the potential to save commercial enterprises money.
It's also one of the longest lasting materials available, with most metal roofing lasting up to (or even in excess of) forty years. This means you won't have the financial outlay associated with more frequent roof replacement.
Energy Efficiency & Eco-Friendliness
Our metal roofing products are increasing in popularity not only because of the energy efficiency and eco-friendliness associated with it, but also the various ways in which these benefits can help you save money.
Because metal roofing reflects heat rather than absorbing it, it's thought to be very energy efficient. This will end up saving you money by reducing your heating and cooling bills by up to 50%.
The eco-friendly design of metal roofing also allows for the easier installation of solar panels, which also have the potential to reduce costs.
Reduced Initial Cost
Metal roofing is a lot cheaper to manufacture than other materials. Manufacturers like us are able to pass these savings on to our customers by providing you with a cost-efficient yet high quality roofing material.
With a reduced initial cost and upfront financial outlay, you may find yourself saving money even before your new roofing is installed.
Easy Repairs & Maintenance
One of the most common reasons commercial businesses choose metal roofing is because the repairs are generally easy to complete and it's fairly low maintenance. It's in this that it also has the potential to save you money.
Because there's less financial outlay on repairs and maintenance, you have more money to save and spend on other, more important areas of your business.
Increased Resale Value
Own your building and you're looking to relocate? With more businesses these days looking for eco-friendly and energy efficient premises, a metal roof has the potential to make you money by increasing the resale value.
When to Contact Manchester Roofing
If you want to take advantage of the money saving benefits of installing a metal roof, you want to be sure you're getting a quality product.
With decades of experience in the roofing industry, we at Manchester Roofing are committed to providing our commercial clients with nothing but the best, and have a team of well-trained, experienced roofing professionals ready to work with you.
Ready to invest in metal roofing and start saving money? Talk to our experts at Manchester Roofing to arrange an obligation-free quote or book your installation today.