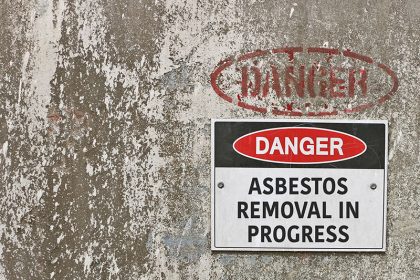 Many homes in Australia contain asbestos – a highly toxic substance which can have damaging effects to you and your family's health. Asbestos inhalation can cause a variety of respiratory problems, the most detrimental being lung cancer. Asbestos is often found in roofs which were built or refurbished before the year 2000 and the procedure to remove it is extremely specific and delicate.
In this article, we're explaining how you can find out if you have an asbestos problem in your building's roof and what can be done in the way of removal to safeguard your health.
How to Spot the Signs of Asbestos
Unfortunately, it can be hard to spot the signs of asbestos. In commercial and residential properties, poisonous materials can hide in:
Asbestos cement roofing
Asbestos cement panels
Asbestos cement gutters and downpipes
Soffits – AIB or asbestos cement
Asbestos cement flue
Roofing felt
AIB exterior window panel
Most flat corrugated roofing and bitumen roofing are contaminated with white asbestos, this is the least hazardous of the three types but can still be damaging to living things. You may not be able to spot these issues yourself so it is advised to contact a professional service for a complete inspection.
Asbestos Removal and Re-Roofing Specialist in Brisbane
If your home or business property was built or refurbished before the year 2000 then it's important to have a roofing specialist assess your roof for signs of asbestos. If you are the building owner, there is an additional level of responsibility as you could be held culpable for any effects of the substance.
At Manchester Roofing in Brisbane, we have years of experience in domestic, commercial and industrial asbestos removal, disposal and re-roofing.
We can safely remove and dispose of asbestos, replacing the affected areas with a safe and modern roofing solution.
We ensure minimal disruption and, most importantly, guarantee the health and safety of anyone in the building.
We guarantee that all asbestos related work will be undertaken by qualified employees holding B Class certification in asbestos handling and that all work will be conducted to the relevant Australian Standards.
Read more about our asbestos removal services.
Asbestos Cement in Roofing
Due to its thermal qualities and extreme fire resistance, asbestos was extensively used in roofing and insulation before appropriate research was conducted on its health effects. Cement sheets are one of the most commonly used roofing products that the mineral is found in, and there are still buildings in Australia that have an asbestos cement sheet roof.
The problem with the roof sheets is that they deteriorate with age and consequently become more brittle, creating a greater risk of the mineral fibres becoming exposed and loose. They also face the risk of degradation from moisture and UV rays as they are exposed to the elements, leaving larger areas of the asbestos unprotected.
For more information about asbestos removal and roof replacement services in Brisbane, contact Manchester Roofing on 07 3490 8480.