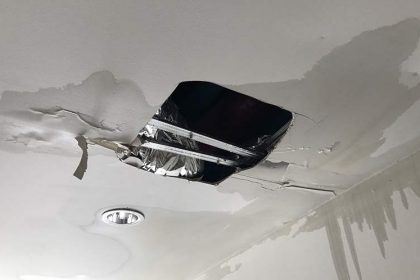 A leaking roof is a cause for concern in any environment, but these concerns are only amplified when it comes to commercial buildings. If the roof of your business is leaking, it can put your employees, customers, clients, and stock at serious risk.
A leaking roof can damage your reputation and cost you a lot of money. That's before we even look at what's going on inside the roof. In this article, our roofing specialists take a look at roof leaks in commercial buildings, the damage they can do, and what you can do to fix it.
Danger to Your Stock, Your Customers, and Your Employees
The problems of a leaking roof won't just stay in your roof. In a commercial environment, this can be extremely costly. Falling tiles and dripping water could damage the stock inside your factory or warehouse, causing serious damage to your inventory and your bottom line.
Roof leaks can also create wet environments, increasing the chance of slipping and falling. This could cause problems for clients and workers alike.
Mould, Mildew, and Damp
Leaking roofs can quickly lead to mould and mildew growth. This might start in your roof and ceiling, but it can spread to surrounding walls and other structures in the building.
Mould can attack the frames and structures of your roof, putting your entire building at risk. Mould, particularly black mould, can also lead to a range of health issues related to congestion, inflammation, and asthma.
These structural and OH&S issues can cause serious headaches for your business, including legal, financial and regulatory complications.
Insulation Issues
In normal circumstances, roofing insulation is a lifesaver for your business. It helps to keep your property at a consistent temperature and reduces your reliance on artificial heating and cooling. However, when insulation becomes wet, it begins to have the opposite effect.
Wet insulation goes from being an insulator to a conductor, causing your energy bills to skyrocket. Identifying, removing and replacing wet insulation is essential in the case of a roof leak.
Electrical Issues and Fire Hazards
Many commercial roofs feature electrical wiring in the attic and ceiling, and this can cause serious problems in the case of a leak. If electrical wiring shorts out due to water damage, this can lead to a fire and serious consequences for your building and everyone in it.
If you discover a roof leak near electrical wiring, we recommend turning the electricity off and addressing the issue immediately.
What to Do When You Discover a Roof Leak
If you discover a roof leak in your business, it's important to act fast. A roofing specialist can help you to track down the leak and devise the best solution. Here are a few options you can explore following a roof leak:
Take action to address a localised leak: If a roof leak is localised, you may only need minor roof repairs. This may include cleaning the area, replacing wet insulation, and replacing individual roof sheets or tiles.
Re-Roofing and Roof Replacement for More Extensive Damage: If your commercial roof is particularly old or significantly damaged, roof replacement may be the best option. Replacing your roof can also increase your property value, increase its energy efficiency and improve OH&S at your business.
To replace your roof, our specialists will strip the existing material, assess underlying water damage and install new metal sheets for you. At Manchester Roofing Australia, we use metal roofing for its durability, thermal efficiency, eco-friendly design and much more.
Ask Us about the Benefits of Metal Roofing for Your Business
Whether you have a leak in your roof or you're simply interested in new metal roofing, Manchester Roofing can assist you. Working throughout Brisbane, Gold Coast and New South Wales, we provide the best solutions for your property.
For more information, call us today on 07 3490 8480 or leave us a message online.