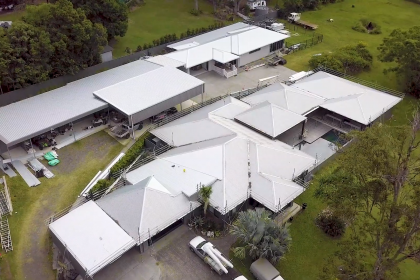 As metal roofing specialists for a number of decades one of the biggest concerns our clients have is the potential for metal roofing to attract lightning.
In this article, we'll discuss whether metal roofing is likely to attract lightning, the types of metal roofing you can choose from and where to go for professional assistance with your roofing installation.
So Does Metal Roofing Attract Lightning?
No. Metal roofing does not attract lightning, nor does metal roofing prove to be a problem during storms in South East Queensland. This is a myth we are more than happy to say is completely false.
In fact, due to the environmental sustainability of metal roofing, it is proven to be a conductor of electricity. This provides you with an extra element of protection against storms and lightning strikes in your area.
It is also less likely to catch on fire due to its non-combustible nature, which means it's a great choice for commercial and residential purposes.
What Types of Metal Roofing Can You Choose From?
There are several types of metal roofing you can choose from, all of which aren't likely to attract lightning. Some of the most popular options our clients choose are:
zinc
copper
aluminium
steel (available in galvanised, galvalume and weathering)
Each of these options is made with superior quality, and a great choice no matter your intended use.
Where to Go for Assistance with Metal Roofing Installation
When installing a metal roof, you want it done right. At Manchester Roofing, our highly experienced team of roofing professionals have the knowledge and qualifications to provide you with a superior metal roofing installation, complete with quality roofing products that are second to none.
To book your metal roofing installation, contact our experts today.