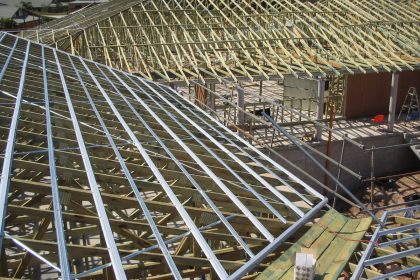 Quality industrial and commercial roofing is important to protect the inner structure of your building and the people in it. Modern solutions have been designed to be secure, safe, strong and energy efficient.
Brisbane properties have a range of industrial and commercial roofing solutions available to them. With experience working on factories, power plants, wineries, offices, hotels, shops, warehouses, high-rise buildings, shopping centres and more, your roofing specialist will be able to complete your project to the highest standards.
Commercial Asbestos Removal
As a business owner, you have the responsibility to ensure that your customers and workers are kept safe. If your property was built or refurbished before the year 2000, it's important to have a roofing specialist assess your roof for signs of asbestos because this substance can be extremely harmful to humans.
At Manchester Roofing, we can inspect your roof for asbestos. We safely remove, dispose and re-roof your property, meeting the relevant Queensland and Australian standards. All our asbestos-related work is undertaken by qualified employees who hold B Class certifications in asbestos handling. 
New Roofs, Re-Roofing and Roof Replacement
The right roof can transform the look of your industrial or commercial property. If a building needs work, it can take away from the professionalism of a business; luckily, there are long-lasting options available for re-roofing and roof replacements.
Metal Roofing – this is a staple of the commercial and industrial markets due to industrial metal roofing's outstanding durability, design flexibility and energy efficiency. Read more about your metal roofing options.
Colorbond Steel – Colorbond steel is a strong, adaptable and good-looking roofing material. Made from recycled steel, this environmentally friendly option is durable enough to resist peeling, chipping, cracking, combustion, termites and extreme weather. Commercial properties can benefit from this steel's design flexibility so if you have an individually shaped roof in mind, speak to the specialists at Manchester Roofing.
Commercial Roof Guttering
Top-quality roof guttering is essential for all industrial and commercial properties to collect water runoff from your roof and direct it away from critical parts of your building like the foundation and landscaping. However, because it is the most neglected area of roof maintenance, it's usually the cause of most commercial roof failures.
At Manchester Roofing, we can replace your old guttering or install new Colorbond, Zincalume, galvanised, aluminium, copper and stainless steel guttering to perfectly match with your commercial or industrial building.
Commercial Roof and Ceiling Insulation 
Having quality roof and ceiling insulation at your property will stabilise internal temperatures and reduce heating and cooling costs, saving you money. At Manchester Roofing, we supply and install a range of insulation products, including SupaTherm – the world's most popular insulation product due to its excellent performance. It absorbs noise and reduces the transfer of heat.
Industrial Roofing Specialties at Manchester Roofing
As a professional team of industrial roofing specialists with over 30 years of experience in the commercial, industrial and manufacturing industries, we are proud to offer the previously mentioned industrial and commercial services to business owners in Brisbane and the Queensland surrounds.
For more details on our commercial and industrial roofing services, call one of our roofing experts today on 07 3490 8480.